WenosCustomWorkShop.com
Let US do the modding for YOU
Home
ADD US ON FACEBOOK http://www.facebook.com/pages/Wenoscustomworkshop/95795934423
Thursday, April 10, 2014
I finally am able to make my own custom circuit boards now. I feel my first batch came out GREAT. I cant wait to make more. I already have 2 more circuits i am making boards for soon. For right now i made custom boards for my Goldeneye Remote Mine and Goldeneye Door Decoder. I am going to start offering services to design and make custom circuit boards. I can custom make boards for any project you will have in mind. Also if you already made the design and you just need the actual boards made i can do that to.
Tuesday, April 8, 2014
Been busy working on alot of new projects of all types. I was recently commissioned to make a emulator inside of a NES Cartridge. So after working on that i decided to post pics and offer it to anyone else who would be interested in this. Please check out the NES cartridge tab on the right!
Saturday, June 22, 2013
So after going through alot. I am currently working on getting my workshop moved to where i am now. I was comissioned to make a few Moonraker WristDart guns and the client asked if i could make it a "firing" FX model.. So after designing and research i have done it! Here is a pic of the final product. I am only making 25 total. Once they are gone they are gone. Here is the link to the video showing it in action.
http://youtu.be/P1XUfdFiMZI




Tuesday, February 5, 2012
So i have been gone for awhile due to a new job and family. I have still been taking orders and i am STILL finishing up orders on my goldeneye door decoder. I didnt estimate so many orders and how long it took to put one together. I am also working on alot of new James Bond Replica props including Moonraker Drax Laser gun, Moonraker Uzi Laser gun, Moonraker Firing Wristdart gun, Goldeneye Arkangel Bomb, Casino Royale Defibrillator, TND Encoder. I have attached some pics and some are in the Prototyping & Autocad tab.




Sunday, July 8, 2012
Just added some movie props i just finished up. They are props from the movie Goldeneye . I am very pleased on how they came out and i am selling a few more to anyone who would like one!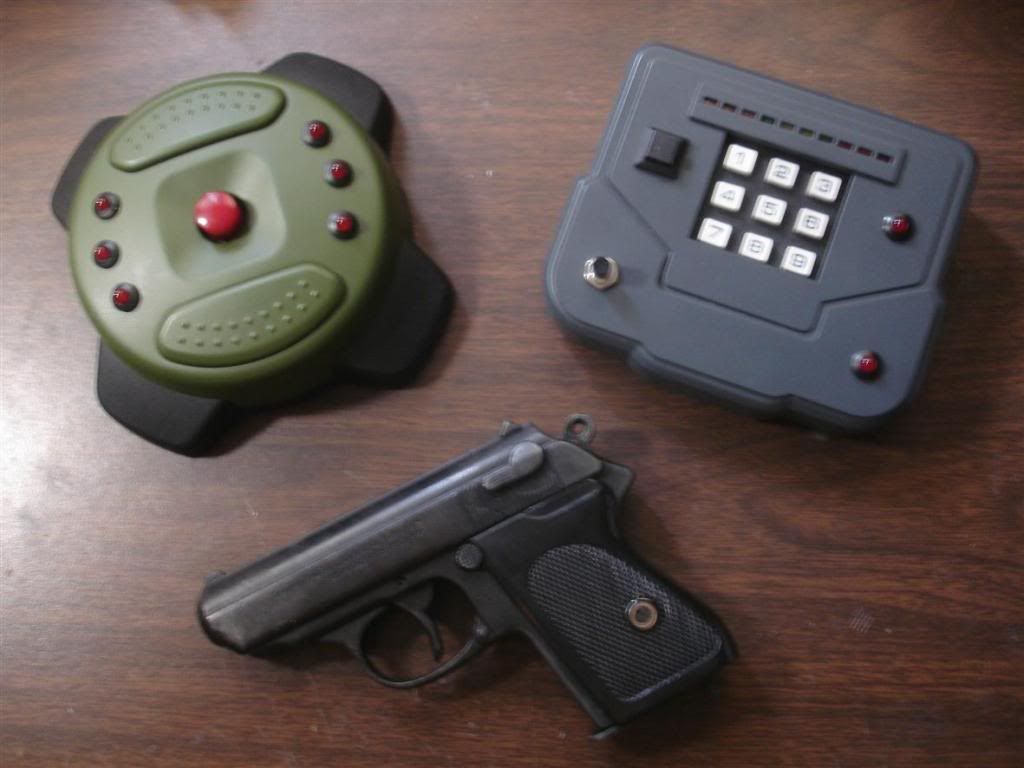 Saturday, March 31, 2012
We now will be offering preventative measures for avoiding the Ylod on Playstation 3's .. so if you have a ps3 that you DONT wanna have the ylod on you can send it in to us and i will clean and upgrade your console so you can have a GREATER chance of not getting the ylod! this will include cleaning, special paste, and better thermal management!

Sunday, March 25, 2012
Well with being busy with my daughter i have found time to start working on another new thing for my website.. i have always wanted to start making movie props and now we are.. to start and i am going to be making a few i have been wanting since i saw the movies.. i will be posting pics soon on here...

Friday, March 9, 2012
Well my beautiful daughter Selena was born on the 6 and i have been very busy filling orders that i have had for repair and i am sorry to the 3 people getting computers built. I am almost finished with all of my computers and i had a little bit of time on my hands so i decided to build my daughter a lamp for her bedroom. I think it is appropriate for this website and since i went old school!



Wednesday, February 15, 2012


someone dropped off a new psvita to me free of charge so i could mod it and do what ever i want!! im so happy i have my own psvita.. looks like i am going to have to mod it...

Monday, February 6, 2012
Just opened a xbox 360 that has been previously repaired by someone in my area. I cant believe this is still happening but people are still convinced other people know how to repair consoles so since they charge $20-$30 they should go to them even tho i have a reflow and since i charge $45


Friday, January 27, 2012
Ok i am posting this to make somethings clear.. YES i still make custom lightsabers. I am always happy to make one to your specs. I have been asked if i am still making them and YES i am. It is still the same way you contact me and give me info on what you would like and then i would start with images and make it a reality. Prices can go from $400-$2000 if you want more detailed and specific parts.. I guess this is getting popular again because of the new starwars 3d release.. Just contact me for info on getting one built.

Wednesday, January 25, 2012
Well due to how well everything is going with the new items i have decided to add more to what i can get... i have a few new toys comming in now.. i have some new cases for the xbox and ps3 and kinect. There are a bunch of new things. To see everything check out the pages for all of the consoles.. Also ANYTHING you see on this website that we sell we are going to BEAT ANY price you see anywhere else for cases.. if you see something and say i can get it cheaper somewheres else that is a reputable site online you tell us the website and if its true we will NOT match the price we will BEAT the price!! we encourage you to find the price cheaper so we can get you the cheapest price available.



Sunday, January 22, 2012
Ok the orders so far have blown up my stock... i am happy everyone likes my new products.. i want to take the time to say this... If you get your console repaired from me if i CANT fix it i WONT charge for the attempt. Also i have had been asked by people all over the place if they can ship there consoles to me ... the answer is YES i encourage everyone to get repairs from me.. if you want it shipped call me and we can get it going if i cant fix it if you ship it i wont charge you and ill mail the console back no problem i get shipments all the time.. from all over the US...

Friday, January 20, 2012
We have had a great year and we are starting this one off right.. We have added more of the cases we carry for the xbox 360 controllers in our xbox 360 section.. Check them out...

Tuesday, December 13, 2011
Adding new stuff to the products.. I can now get xbox 360 controller shells i will be posting pics in products as well as analog sticks for ps3 and 360. I also have rapid fire chips now. I have the intensafire series which i will work on ANY ps3 controller no restrictions as well as 360. The standard price anywhere for ps3 is $59.95 i will be installing into ps3 controllers for $40.00 if you supply the controller. The 360 price is $34.95 i will be doing them for $30.00 you supply controller.



Sunday, December 11, 2011
Just wanted everyone to know they should check out our products page.. there isnt alot right now but what is there has been selling quick.. I am going to be pushing these items for the rest of the year.. They are great consoles for the new and old school gamers...

Wednesday, November 23, 2011
Ok since i have been posting stuff locally again i am tired of getting dumb responses. So i made a page just for trade info. Its called "trade info" check the side of this page to the tabs and go to it if you wanna trade. Thanks.

Monday, November 14, 2011
So been working on alot of things recently.. working on led tail lights for cars and some console stuff.. I also bought a copy of call of duty modern warfare 3 on PS3..YES i BOUGHT a copy. I have started a clan anyone who wants to join its UniversalExports just how you see it.. its from James Bond. if you join you get a discount on my site for things i have for sale and custom projects.. Clan is on PS3... My online psn is J007JR

Saturday, November 5, 2011
This day in 2008 i lost someone who was very very close to me. I lost my mother to cancer and my life hasnt been the same. I have been trying to keep myself occupied and now i am a little free to work so lets get down to business.
Well it has been awhile since i could do local work.. i have been busy working for some companies working on small projects. I am back and ready to work on ANY computer problem you have or video game system problem. I am still making portable classic consoles and new ones, and building custom arcades for your man cave, and computers, and anything else you may need modded or built. I have cad software so i can design cases or logos or anything you need.

**I also sell computers in bulk or individual if you are starting a business and need some let us know i can set you up with as little as one or as much as 500 computers...i have a warehouse full of desktops complete..**

Wednesday, January 5, 2011
Attention ebay customers if you are interested in getting repairs or mods i am doing special prices. in order to get this discount you must contact me via my ebay account and tell me what you need and give me this special ebay code at the end of this and i will give you 10% off each item. Code: eBaYoFF

Thursday, Devember 23, 2010
We have gotten in new products on our products page. We have started selling some revamped classic consoles....check them out and order some!

Saturday, November 13, 2010
We have gotten our reflow station in and have set it up and tested it with a couple of consoles we have laying around and it fixed every console we threw at it.. we will be able to give a 30 day warrenty with any console fixed by us that has not been prevously fixed before. we have also been busy playing James Bond Goldeneye for the Wii and James Bond Bloodstone for ps3 as well as Call of Duty Black Ops for PS3. if you would like to play some Black Ops Shoot us a message on PSN our name is J007Jr...

Monday, August 8, 2010
We are now modding gamertags to have all of the buttons on the controller and ANY words you want. Here is a picture of what mine looks like on call of duty modern warefare 2.



Thursday, August 5, 2010
We are now HOSTING 10Th Prestige lobbys for call of duty modernwarefare 2 on the xbox 360. The fee is $10.00 to join in and rank up! (We are no longer hosting)



Tuesday, May 25, 2010
Hello i am proud to say that we can UNBAN xbox 360 consoles now.... i have been offering this for a while to test it out and it works 100% so i can unban and jtag consoles...

Tuesday, May 25, 2010
I am currently working on a new project which is almost done and will be on the website soon.....

Thursday, March 18, 2010
Here are some pictures of the controller mods we do also with the new rapid fire.... more pics in xbox 360 page



Thursday, Feburary 18, 2010
We will be carrying stealth xbox 360 controllers now... most websites charge 100.00 for them however i am charging 85.00..... come get yours now from us...

Tuesday, Feburary 16,2010
Well i have taken on a task for my personal self... i have done numerous mods with the atari flashback 2 and i decided to do one for myself.. i made a atari flashback 2 take cartridges but also with it being slot loading instead of the cartridges going in on the top.. i have some pictures to show everyone... hope you like them... this particular unit is not for sale i am keeping it for myself... i am willing to do more for people however....



Here is a new flyer...



Friday, January 15, 2010
Well i would like to say we moved to Jenera Ohio from New Jersey...

Thursday, June 25, 2009
Well this summer has been so boring and slow. I cant believe how it is right now. I think it is just because i just graduated but i dont know. I am currently in Parkville, Maryland but i will be comming back on sunday. If you need anything done please email me i will get to you as soon as i can. I am also selling my own personal modded psp. It is a psp fat with a custom clear case with blue leds in the trigger it also has custom firmware. The price for it is $300.00 if you are interested email me. Also R.I.P. Michael Jackson....

Sunday, June 21, 2009
Well i graduated on friday it was a great experience. I am so happy that it happened. This will be so great. I have also moved and i finally have a good enough workshop. Well check out my blog, myspace, and facebook take a look in the about section.. "Weno"

Wednesday, May 20, 2009
Well i would like to thank everyone for the very nice comments on my playstation 3 and i would like to give a very special thanks to the person who helped me the most on this which is my brother Corey. I also want to say that this is for sale on ebay here is the link Wow thats long well thanks everyone and if you would like to play me on playstation 3 my tag is J007Jr. thanks "Weno"

Friday, May 8, 2009
Well i have been very busy i have almost finished my Playstation 3 Prototype. I have a new page just for it check it out. I have finished the actual system but i need to finish the controller. It is a very good system and worth the money. I will be putting a video of the final product when i am done with the controller. If you would like to see it here are the pictures and they are all on the page named Playstation 3 Prototype. "Weno"